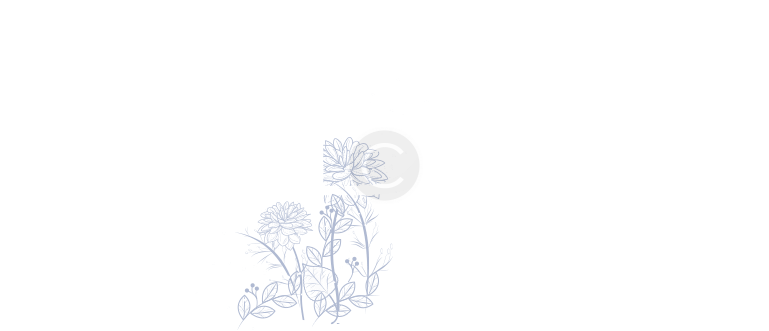 Massage Therapy Center
You deserve better than a rushed massage by a rookie therapist in a place that makes you feel more stressed.
Body and Mind
A spa is a location where mineral-rich spring water (and sometimes seawater) is used to give medicinal baths. Spa towns or spa resorts (including hot springs resorts) typically offer various health treatments, which are also known as balneotherapy. The belief in the curative powers of mineral waters goes back to prehistoric times. Such practices have been popular worldwide, but are especially widespread in Europe and Japan. Day spas are also quite popular and offer various personal care treatments that you can also find at our Body and Mind Therapy Center.
I have had couples massages here and they have been wonderful! The location is clean and strategically close to hotel I stayed. First visit was late night, reached closing time therefore I was only able to have an hour massage. Massage room served with relaxing music scented with a delightful aroma. I went to sleep well. Second visit, I booked full program included Hamam and face treatment. Hamam area was calming and relaxing. The rest was done in gentle and perfection. The staff makes you feel comfortable and the communication with the owner was great. The owner definitely focus on the customer satisfaction without hesitating to top-sell extra services. It makes huge difference to just be able to get on with the day ahead without the persistent nagging pain with a feeling gratitude.
Latavia Douglas
2023-03-10
This is my first Hamam experience ans i must say i would happily come back here exactly just for thr same hamama over. Customer service has never fallen short and the quality of the service itself is absolutely amazing. I need another one already
One of the best experiences I've ever had it was so good I came back the next day. The hospitality is amazing and the women doing the hamam and massage are unbelievable it was so good perfect spot to come reasonable prices and just an amazing experience over all!!! Definitely coming again before my flight! It is a must! Perfect perfect perfect
2019 war ich erstmalig mit meiner Freundin hier. Wir waren begeistert, tolle Anwendungen, wir haben es mehrmals genossen und auch im Frühjahr 2020 haben wir die Freundlichkeit, das Können, den Tee, einfach alles genossen. Corona hat uns dann ausgebremst. Aber im letzten Jahr haben mein Mann und ich das komplette Programm und mehrere Male die Massagen dankbar in Anspruch genommen, einfach super. Nun freuen wir uns auf ein baldiges Wiedersehen, in 3 1/2 Wochen sind wir wieder in Evrenseki und werden die Anwendungen genießen. Bis bald Hugo & Monika
Detlef Braungart
2023-02-21
Sauber und ordentlich keine Abzocke, es wird keinen was aufgedrängt, und wenn wir wieder in der Gegend sind sind wir garantiert wieder da nur zu empfehlen 😀
Top Massage
Bestens. Kann man wirklich weiter empfehlen. Danke.
Frank Eichhorn
2022-12-11
Alles gut, haben nach dem Hamman, gleich Massage Paket gebucht. Kommen auf jedenfalls sicher wieder.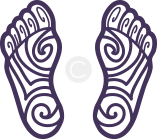 It's more than just a pleasurable indulgence. A regular regimen of professional massage therapy can help reduce chronic aches and pains, boost your immune system, improve your sleep habits and generally enhance your overall quality of life.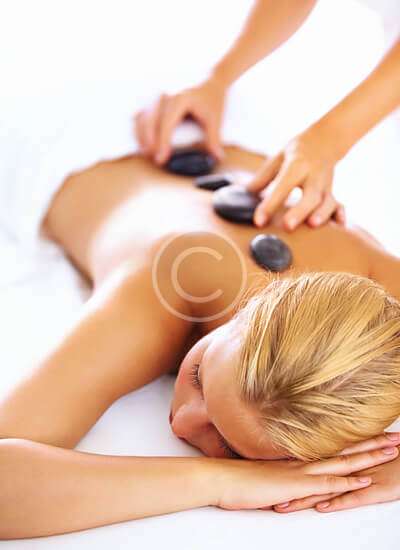 Day Spa
Treatments
and Services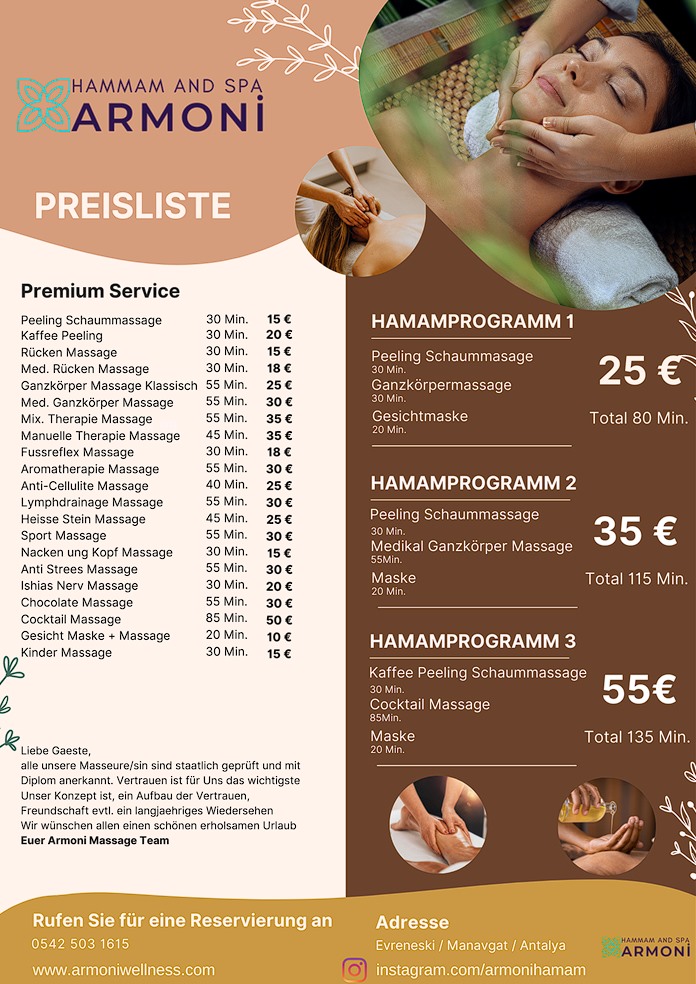 Wir bieten drei unterschiedliche Hamam Programme an:
Das erste Programm beinhaltet:
30 Minuten Peeling, 30 Minuten Schaum Massage und 20 Minuten Gesichtsmaske
Bevor das Hamam betreten wird, geht es in die Umkleidekabine.
Männer betreten Hamam in Badehose, Damen in einem Bikini.
Beim Hamam handelt es sich um ein Dampfbad. Zunächst erfolgt im sogenannten Heißraum eine rituelle Waschung. Danach kann man es sich schließlich auf einem großen, warmen Marmorpodest gemütlich machen. Die Temperatur beträgt 45 bis 50 Grad Celsius. Dadurch lockern sich die Muskeln, die Hautporen öffnen sich und bereiten den Körper auf die folgenden Anwendungen vor.
Nach ca. 10 Minuten betritt der "Tellak" (Hamam Meister) den Raum und beginnt mit der Anwendung.
Als erstes reibt der Tellak abgestorbene Hautpartikel sanft von der Haut ab. Dieses Körper-Peeling führt er mit einem Handschuh aus Seide durch, dem sogenannten "Kese". Der Peelinghandschuh wird in verschiedenen Stärkegraden und damit für jeden Hauttyp angeboten. Dies fördert die Durchblutung und regt die Regeneration der Haut an.
Danach wird der Körper abgewaschen und es folgt die Seifenschaummassage. Dabei wird ein Leinensack in Kernseifenlauge getaucht und damit große Schaumflocken gebildet. Der gesamte Körper wird damit eingeseift und massiert. Einige Güsse mit warmem Wasser schließen das Hamam ab.
Danach wird man abgetrocknet und in den Ruheraum begleitet. Dort stehen kostenfreie Getränke wie Tee/Wasser/Kaffee zur Verfügung.
Nach einer Ruhezeit beginnt dann die 30-minütige Relax Massage, damit sich der Körper entspannen kann. Abschließend erhält man eine Gesichtsmaske aus Tonerde. Die Maske reinigt porentief, verfeinert das Porenbild und reduziert Fältchen sowie Ölglanz.
Ihr Armoni
Massage und Hamarn Team